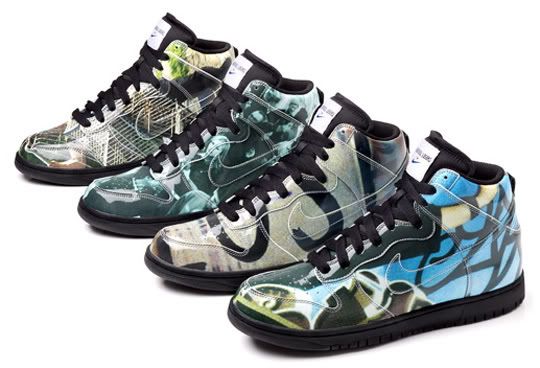 Nike has created a series of 22 dun his in commemoration of the August 8th premier of the beautiful losers full length film in NYC.
"Presented by NIKE SPORTSWEAR, the film chronicles the lives and creative process of artists including Shepard Fairey, Margaret Kilgallen, Mike Mills, Barry McGee, Jo Jackson, Chris Johanson, Harmony Korine, Stephen Powers, Geoff McFetridge, Thomas Campbell and Ed Templeton, among others, whose DIY attitudes informed the aesthetics and ethos of their generation.
To further commemorate the film's release, Nike's Sportswear's JESSE LEYVA has also created a series of 22 Beautiful Losers Dunks emblazoned with iconic stills from the movie using the company's new high-resolution digital printing process. Says Aaron Rose of the project, "We went back to the documentary and pulled frame stills of what we felt were key moments in the narrative. We used these moments to tell the Beautiful Losers story using the shoes as a medium, with the end result being a collection of works of art." Viewed together, the shoes reflect the overall narrative of the film, and after being exhibited at the NYC and LA "Make Something!" workshops, two sets of the shoes will be auctioned off with proceeds donated to the Children's Aid Society." Via
Supertouch
.
BEAUTIFUL LOSERS NYC SCREENING SCHEDULE:
IFC Center
323 6th Ave (at W 3rd St), NYC
Showtimes for Friday 8.8.08—Tuesday 8.12.08:
12:45, 2:30, 4:15, 6:15, 8:20*, 10:20pm*, plus Fri-Sat: 12:15am