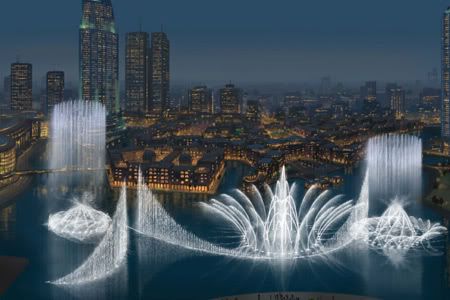 Dubai could become the most technologically advanced city in the world in the next couple of years. By the year 2015, Dubai will have the tallest worlds tallest building, the world's biggest mall, the worlds biggest amusement park, hotels, man-made islands, and many others. The latest projects include the first dynamic building and the greatest fountain the world has ever seen.... ever. The fountain is said to be the largest and tallest in the world, costing around $281 million.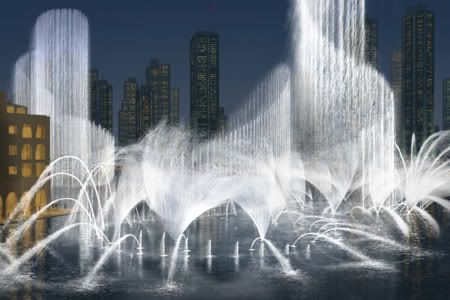 Gizmodo informs that the Dubai fountain is going to be 825 feet long, making it about 25% larger than the current title holder for worlds coolest fountain, the Bellagio hotel's fountain in Las Vegas. In order to power the huge fountain, the designers will be implementing pumps capable of shooting columns of water approximately 450 or so feet into the dry Middle Eastern air.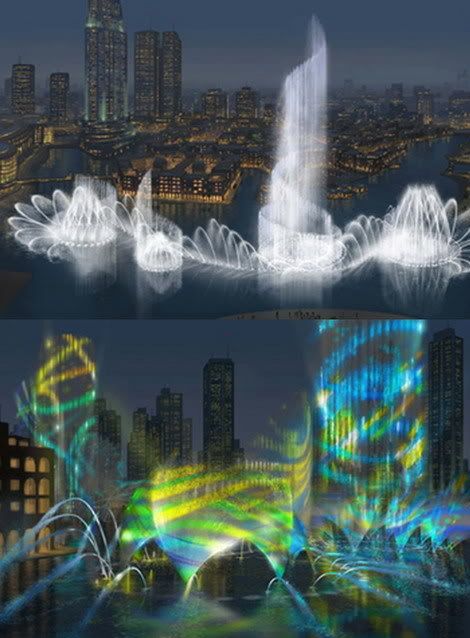 ..But what's a 281$ millions dollar fountain without an unparalleled light and sound show? Nada. The designers of the fountain intend to orchestrate a sound and light show produced by a network of 6,600 lights and 50 projectors that will illuminate the Dubai skyline at night. About 22,000 gallons of water are expected to cycle through the fountain at any given time when it is completed in 2009. Why not?
Gizmodo