Scottish distillery
Glenfiddich
approached design firm
Johnson Banks
with an unusual commission. To somehow create a visual series of artworks illustrating the length of time it takes for their single malt whiskies to mature in the barrel. Last year Glenfiddih did something similar when they gave 5 artists a barrel to make a series of sculptures to represent 5 of their whiskies. Johnson Banks took a similar approach, but wanted to take barrels and display them in a way which shows the time the whisky aging process took. Above is a piece which shows the amount of days and nights it takes to create the whisky.
The above "impossible barrel" is made from a series of the metal hoops that bind and enclose the staves of the barrels together.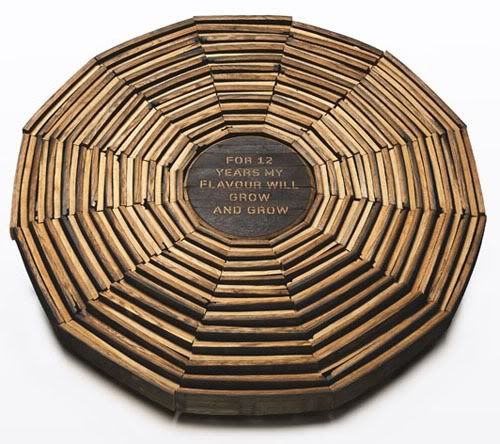 The piece above recreates a cross-section of a tree with a dozen rings to represent the maturation of whisky's flavour. The sculpture is made from six separate barrels and weighs a quarter of a ton.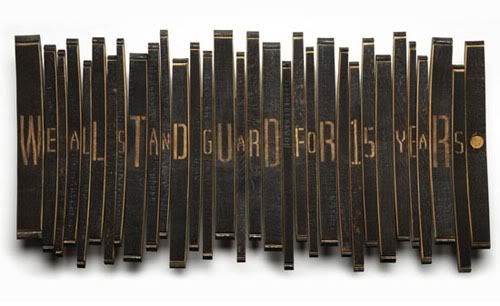 For the 15 year-old whiskey, johnson banks used the insides of the 32 wooden staves that they manipulated to form a whisky barrel. The type was sand-blasted out of the charred wood.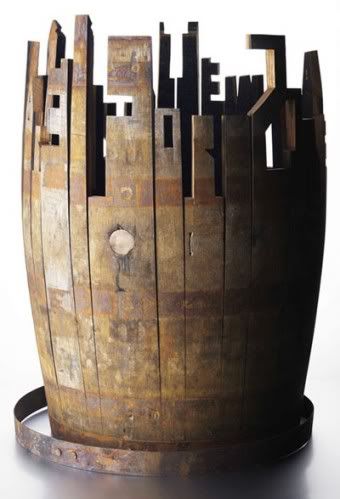 The total volume of the contents inside the barrels decreased over time by almost 50%. The missing whisky shows in this piece is referred to as the Angel's share. Here, the phrase "For 21 years we take a share" is chopped out of the top of the barrel.
The Glenfiddich Barrel Art Exhibition is on until November 27 at the
Studio Warehouse
, 100 Eastvale Place, Glasgow G3 8QG (12 – 5pm daily; 7pm on the 27th). Admission is free. See
swg3.tv
for more details.
[CR]